Jute Foldable (50x38x11cm gusset) - Bag - 129065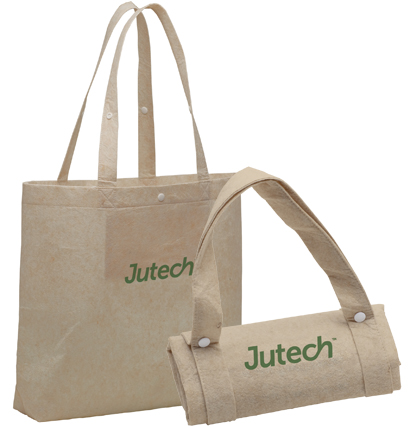 Prices
| | | | | | | | | |
| --- | --- | --- | --- | --- | --- | --- | --- | --- |
| Qty | 25 | 50 | 100 | 250 | 500 | 1000 | 2500 | 5000 |
| 2-3-weeks | P.O.A | $10.01 | $9.13 | $5.20 | $4.44 | $4.06 | P.O.A | P.O.A |
Description :
100g non-woven jute. Made using a strict, environmentally friendly production method with almost no emissions, these revolutionary JutechTM fabric bags are a sturdy choice. The large print area is ideal for branding, as print on the non-woven fabric is both crisp and bright. The foldable bag can be folded down to a small size to fit in your pocket or handbake, while still expanding to a full-size shopping bag.
Colors:
Available in a range of color(s) including Natural only.
Sizes:
First time set up charge:
$75.00 + GST Per colour or position
Check out our entire range of tote bag
Conditions :
Prices are ex-GST. GST is additional: P.O.A is Price of Application. Minimum total order value $500 + GST. Save money on order value over $1000 + GST, contact us directly to see how.
Any order that is approved to move beyond the quote phase will incur a $250 + GST cancellation fee if cancelled. This is due to the time frames neccessary to produce sales order and or artwork order confirmations.
Seamless Merchandise have a strict quality control process and each client must sign a Sales Order and Artwork order confirmation to confirm the details of the order plus the artwork, colours, positions, decoration types and size.
All product timelines are from artwork order approval, deposit/payment receipt and or pre-sample approval and are dispatch times from our locations. Production times are not guaranteed.
Cancellation of approved orders, after the client has signed a order confirmation, are not possible without the approval of Seamless Merchandise senior management. Please be aware that request for cancellation after full approval could mean the client may be liable for payment of 50% to 100% of the value of the order.